With wildfires raging along with political tension and recent tragedies, we are reminded about the power of sports to entertain, distract and bring people together.
TINK Sports Big-3
Here are three things you need to know:
1) The NFL's Los Angeles Rams and Los Angeles Chargers are bringing relief to beleaguered LA residents
2) Look North as the NBA's surprise remains the Toronto Raptors
3) Some of college basketball's young stars are strutting their stuff already
National Football League (NFL)
Welcome distraction…Los Angeles needs a break from last week's tragic shooting and spreading wildfires.  Enter the Los Angeles Rams (9-1) and Los Angeles Chargers (7-2), two the league's best teams who both won Sunday despite playing with heavy hearts.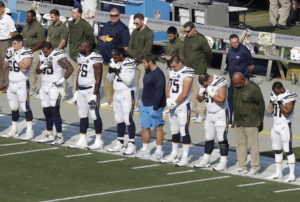 Source: The Columbian
It's worth noting that both squads relocated to LA two years ago as the City of Angels (the second largest US media market) didn't have a professional football team for 21 years prior to 2016.
With all due respect to the LA squads, however, the New Orleans Saints (8-1) have won eight in a row and might be the best team in the league.  The Saints blasted the Cincinnati Bengals 51-14 Sunday putting the league on notice.
When the student takes down the teacher…that's what happened Sunday as coach Mike Vrabel led his Tennessee Titans over his former coach and mentor Bill Belichick and the New England Patriots 34-10.
In a Sunday night rivalry game, the Dallas Cowboys kept their season alive by beating the defending champion Philadelphia Eagles.
College Football
No surprises this week in college football as the top 10 teams all won.  The only matchup with any intrigue was #6 Oklahoma sneaking out a victory over in-state rival Oklahoma State 48-47 Saturday.
The new AP-Top 5 is the same as last week's:
1) Alabama
2) Clemson
3) Notre Dame
4) Michigan
5) Georgia
Start spreading the news…There are few high-powered matchups this weekend but one to watch is #3 Notre Dame vs. #13 Syracuse.  The game features two top teams and is being played at Yankee Stadium in the Bronx.  That's right.  A neutral field that happens to be a baseball stadium.
National Basketball Association (NBA)
Cheesesteaks for everyone…Basketball fans in Philly are rejoicing as their Philadelphia 76ers traded for all-star Jimmy Butler of the Minnesota Timberwolves.  The 29-year-old Butler joins 24-year-old rising star Joel Embiid and 22-year-old phenom Ben Simmons as the anchors of a young, talented team with championship aspirations.  #PressureIsOn
Impressive, eh?  The Toronto Raptors continue to be the NBA's surprise team sporting a league-best 12-2 record.   Similar unexpected success is being had by the Milwaukee Bucks (second to Toronto in the East) and the Portland Trailblazers (second to the two-time defending champion Golden State Warriors in the West).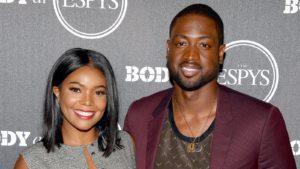 Source: Celebrity Insider
Paternity leave?  Indeed.  NBA Champion Dwyane Wade is taking time off to be with his wife, actress Gabrielle Union, as they welcome their daughter who was delivered by a surrogate a few weeks early.
Car Racing
If speed is what you need, Kyle Busch won Sunday's NASACR playoff elimination race in Phoenix and will compete in the Championship 4 at Miami this Sunday.  Joining Busch in the four-driver NASCAR championship chase are Joey Logano, Kevin Harvick and Martin Truex Jr.
College Basketball
Youngblood.  #1 Duke is a sight to see.  The Blue Devils might have the two best players in the country, and they are both freshman.  6'7" Zion Williamson and 6'7" RJ Barrett look spectacular, albeit in just two games.  The duo will likely be drafted in the top-5 and be delighting NBA fans next year.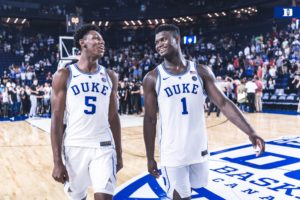 Source: ESPN Charlotte
Hoops dominance…Duke is the #1 team in the country for the 135th time, breaking a tie with UCLA for most all time.
Don't forget about us…#2 Kansas was ranked #1 last week before Duke leapfrogged them.  KU has young star power of its own, including freshman Quentin Grimes and sophomore Dedric Lawson, that has led Kansas to a 2-0 start.
The rest of the top-five squads are: #3 Gonzaga, #4 Virginia and #5 Tennessee.
Share the TINK Sports love.
Remember at TINK Sports we watch the games so you don't have to.
See you next time…