Scoring big at the box office was "Bohemian Rhapsody" collecting $50 million in its domestic debut.  Let's see who made a splash on the field this week…
TINK Sports Big-3
Here are three things you need to know:
1) The NFL's Los Angeles Rams finally lost a game
2) The NBA's top teams include some surprises
3) College Basketball tips off Tuesday with a blockbuster double header
National Football League (NFL)
Perfect no longer…The undefeated Los Angeles Rams were feeling invincible but were rudely awakened Sunday in the Big Easy.  The New Orleans Saints and their offensive juggernaut, led by Drew Brees, Alvin Kamara and Michael Thomas, looked superb taking down the Rams 45-35.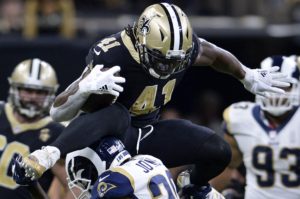 Source: The Spokesman Review
Another elite NFL team with a superior offense (and questionable defense), the Kansas City Chiefs, handled the Cleveland Browns to keep pace with the Rams and Saints as the league's only one-loss teams.
In a battle of living legend quarterbacks, Tom Brady led his New England Patriots to a 31-17 victory over Aaron Rodgers and the Green Bay Packers Sunday night.
To close out Week 9, the Dallas Cowboys welcomed their new wide receiver, Amari Cooper, but fell to the Tennessee Titans Monday night.
College Football
As if there were any doubt…#1 Alabama is so much better than anyone else in college football it's scary.  The sport's top dogs took on #3 LSU Saturday night in a typically hostile, difficult Baton Rouge.  But it was no problem for Alabama whatsoever as the Crimson Tide crushed LSU 29-0 and look destined for yet another National Championship.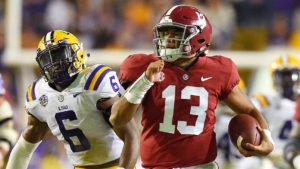 Source: ESPN
Other teams making a statement for being in Alabama's class (barely) are #2 Clemson who crushed Louisville 77-16, #4 Notre Dame who dropped Northwestern, and #5 Michigan who beat #14 Penn State.
The new AP-Top 5 teams are:
1) Alabama
2) Clemson
3) Notre Dame
4) Michigan
5) Georgia
National Basketball Association (NBA)
Who doesn't love the 80s?  The Miami Heat apparently do and are trying to rekindle the love for Sonny and Tubbs with their "Miami Vice" throwback jerseys.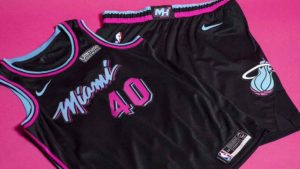 Source: Nike
Roughly 10 games into the season the teams making the biggest splash are the Toronto Raptors and Milwaukee Bucks in the Eastern Conference, and the Golden State Warriors and Denver Nuggets in the West.
College Basketball
College hoops is back as the 2019 season tips off this week.
Fans will be treated to a slew of future NBA talent Tuesday night when four of the top teams go at it on national TV:
#1 Kansas vs. #10 Michigan State
#2 Kentucky vs. #4 Duke
TINK Sports will guide your through the season, which culminates with March Madness and a champion being crowned April 8th.  #StayTuned
Share the TINK Sports love.
Remember at TINK Sports we watch the games so you don't have to.
See you next time…