Thanksgiving gives us a reason to reflect on what we are grateful for in our lives.
Sports fans will also be thankful for Creed II off the field and a slew of entertaining games on the field.
TINK Sports Big-3
Here are three things you need to know:
1) The NFL's Los Angeles Rams and New Orleans Saints are the league's top dogs
2) The NBA's best team, the Golden State Warriors, is not invincible after all
3) Duke and Kansas continue to lead the charge in college basketball
National Football League (NFL)
Thank you NFL schedulers for giving us the game of the year Monday night. The offensive shootout saw the Los Angeles Rams (10-1) survive the Kansas City Chiefs (9-2) 54-51. With 105 combined points this was the third-highest scoring game of all time.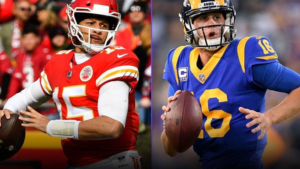 Source: Sports Illustrated
Both MVP candidate QBs Jared Goff (Rams) and Patrick Mahomes (Chiefs) were unreal combining for nearly 900 yards and 10 touchdowns.
Side note: The game was expected to be played in Mexico City but the soccer field there that was supposed to host the contest was so chewed up that the NFL decided to move the matchup to LA. After all that LA has been through this was a nice distraction.
Don't forget about us. The other elite NFL team is the New Orleans Saints (9-1) who are destroying the competition. Their latest victim was the defending champion Philadelphia Eagles who were obliterated 48-7 Sunday.
For many, Thanksgiving Day is just as big for football watching as it is for turkey eating. Here's an image of a memorable past Turkey day.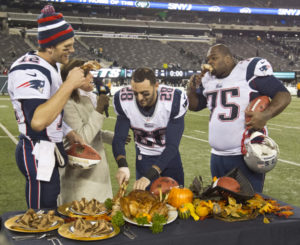 Source: SI Kids
Here is Thursday's NFL lineup:
Chicago Bears @ Detroit Lions 12:30pm ET
Washington Redskins @ Dallas Cowboys 4:30pm ET
Atlanta Falcons @ New Orleans Saints 8:20pm ET
College Football
No movement again in the top-5 as top seeds held serve but this weekend brings some heavyweight games:
The new AP-Top 5 is the same as last week's:
1) Alabama
2) Clemson
3) Notre Dame
4) Michigan
5) Georgia
Games to watch this weekend:
#6 Oklahoma vs. #9 West Virginia (Friday)
#8 Washington vs. #18 Washington State (Friday)
#4 Michigan vs. #10 Ohio State (Saturday)
National Basketball Association (NBA)
Trouble in paradise? The two-time defending champion and overwhelming favorite to three-peat, the Golden State Warriors, had some infighting last week, lost a few games and now look mortal. The Warriors have until April to get it together but don't look as invincible as they once did.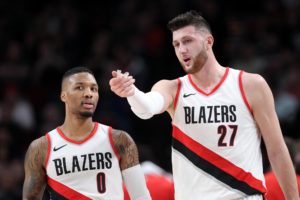 Source: Blazersedge.com
The Warriors were expected to run away from the pack in the Western Conference but the Portland Trailblazers and Memphis Grizzlies have other plans as they sit atop the conference with Golden State.
College Basketball
The college hoops season is still young but Duke, Kansas, Gonzaga, Virginia and Tennessee remain unbeaten and represent the AP Top 5 teams.
Share the TINK Sports love.
Remember at TINK Sports we watch the games so you don't have to.
See you next time…